Training Overview:
Training Programs
An Overview Of Our Training Programs
CEF
has available several programs designed to equip Christians with proven techniques for sharing the gospel and first steps of discipleship with children.
Teaching Children Effectively™
Level 1 - An innovative 30-hour course designed to equip local church members with a fresh approach to evangelizing and teaching today's child.
Level 2 - This 30-hour course is designed to help you disciple the Christian child.
Good News Club Program Training
There are two facets to the Good News Club Program Training.
Basic Training

is designed to train the new workers. Each level of involvement from
Helper - who develops relationships with a small group of children, to Bible Teacher, who does the main presentation in the club, attend this training.

Creative Presentation Resources (CPR)

is an opportunity for the workers to gather together four times a year to review the next curriculum series, receive creative ideas to present a "High Octane" club, encourage one another, and pray together.

Please contact Maribeth Pipkorn, Director of Training, for more information about GNC training at the CEF Center 262-373-1780.
Christian Youth In Action® (CYIA®)
Christian Youth in Action (CYIA) is a short-term, summer ministry dedicated to the training and development of committed Christians (ages 14 and up) who want to be equipped to reach children for Christ.
Learn more about Christian Youth in Action (CYIA)
Contact the

CEF Center

to find out more about CYIA registration.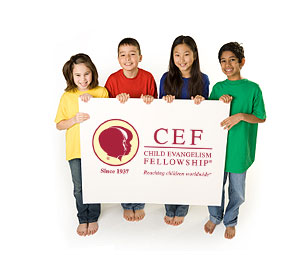 Church Seminars & Workshops
CEF offers customized, on-site training to local churches for Sunday School teachers, AWANA leaders, and parents. CEF has numerous workshops available specially designed to help you meet the needs of today's child.
Learn more about Church Seminars & Workshop Options.
Children's Ministries Institute ®
The Children's Ministry Institute exists for the express purpose of promoting the evangelization and discipleship of children around the world. This purpose is carried out primarily through training and equipping workers and leaders for Child Evangelism Fellowship® ministries. In addition, those working in the local church and other mission organizations can benefit from the training which will enable them to minister to children in their sphere of influence.
Visit the Children's Ministries Institute website...
(Each series includes three or more presentations.)
Leadership: Living Out of the Overflow - Dr. Richard Blackaby takes an in-depth look at the life of Elijah in this three-session seminar series. Each seminar session includes a video message and a parallel worksheet with quotations from the book Living Out of the Overflow. The fee for this seminar series is $30.00.- $30.00
Mastering Life Before It's Too Late - In the book Mastering Life Before It's Too Late, Dr. Robert J. Morgan shares ten biblical patterns for pleasantly productive people. These patterns are shared in a 10-part seminar series. (Cost: $30.00)- $30.00
How to Study the Bible (free) - This seminar will help you understand the importance and process of moving beyond devotional Bible reading to Bible study. (Cost: FREE!)
-These individual seminars cover various topics related to direct ministry to children.
Seminars include printable notes and an audio presentation synched with slides. They can be used effectively both by individuals and groups.
Free Sessions
Can Children Be Saved
The Gospel: Prepared for a Child's Heart
Paid Sessions - $5 for individual; $25 a group
Getting Kids Involved in Missions
Inviting Children to Receive the Savior
Counseling a Child: The Art of Asking Questions
Teaching Young Christians to Grow
Discipline: Tips for Influencing Classroom Behavior
Understanding Age Group Characteristics
Teaching Preschoolers to Know and Love God
Single Seminar
Wordless Book Training
Wordless Book Training is a 42 minute seminar designed to equip you to effectively present the message of salvation to children. You will become familiar with the truths of the message of salvation and how to present them using the Wordless Book.
From Scripture Smart to the Heart
The content for this session is offered as a video presentation (48 min). This presentation is designed to help you understand the steps to follow when preparing to teach a Bible verse to children.
Demonstrations
---
Learn More About Local Teacher Training & Upcoming Training Events